Hopefully start of something new on the Blog, with the Above the Rim post..
Basketball sometimes is a sport better photographed from positions from where the fans rarely themselves see the action - so what better place to place the camera than behind the backboard.
In the last two weeks I have placed a camera behind the basket in couple of games, and where as you will get more frames that are unusable than usable frames. Sometimes the shifting through the pictures is worth it, as hopefully some of the images in this series will demonstrate.
Apart from the set-up of the camera and setting it up, the most important thing you need is for the players to 'co-operate' with you and perform some high flying action. For this, the photographers in some other leagues are better equipped than what I have at the domestic BBL - although having said that, there are few players who will perform!! (but despite them telling me to be ready at a certain game - nothing!!!)
Best pictures do not always come from the game itself, but from the practice before the game - players are more relaxed and perform for the audience at times (and you do not get anyone blocking the rising players face). In this post I have included the picture of Devan Bailey of Manchester Giants to show the image from a warm-up. Perhaps not an image for publication - but something the player himself might enjoy to have in his archives.
Other images :
Image 1 : From Newcastle Eagles vs Manchester Giants, David Aliu is rising towards the basket with the sweeping hand of Kareem Maddox poised to block the shot
Image 2 : From Surrey Heat vs Glasgow Rocks, Peter Simek this time going up - and Kieron Achara coming to perform defensive duties.
Image 3 : Another one from Heat vs Rocks, with Julius Joseph just having left the ground.
So - to start with a small selection of images from couple of games in the past weeks - if interest is shown in these types of images, hopefully this will be a twice a month section here in the Blog, showing the best of the past weeks images. Not every game produces images that are usable - good example of that was two weeks ago a game between Riders and Raiders.. not a single frame that I thought worth editing/posting. Very much a 'hit&miss' type of shooting this one.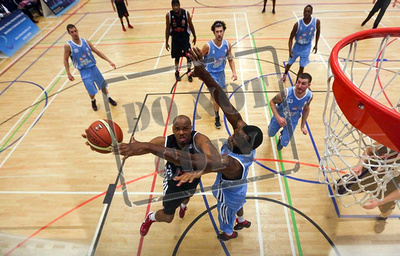 Apologies for Watermarking most of the images - from past experience it seems that players (and fans) are very happy to snap pictures for use on the Facebook/Twitter pages, I know they do ruin some of the impact of the pictures.. but it is only to protect the images. (Happy to hear from players if they enjoy the images - or want to know if I have any of them..)
All images © Ville Vuorinen - No unauthorized use allowed - always ask for permission before copying the images, Thank You !