Sunday in a small town in Switzerland can be quiet with closed shops - and painful if you attend Team Finlands training!
Sunday - time to have a quick walk around Fribourg and see what the town is about, and it seems that not much is the answer during a Sunday. Most shops kept their doors closed so a quick walk in the country-side was all the entertainment, before heading for Team Finlands training session at the game arena in late afternoon.
For some reason I must like a local person in Switzerland (no -not posting a picture of myself here!) as I was standing outside the venue waiting for the team to arrive, I was approached four times by local people asking for direction through the construction site.. I could not tell them in words where to go.. but good international sign language with pointing and bending the arms seemed to get the job done just as well. And a friendly nun even gave me an apple after I pointed her to the right direction :-)
Finland eventually arrived to the training, only about 15 minutes late - due to their bus driver not getting to the hotel on time, I am guessing the driver didn't have a Swiss made watch ;-)
Next 90 minutes were spent filming/photographing the training - and as always, only watching once the tactics were discussed. With all my experience attending training session with various teams.. I must have some potential of becoming a basketball coach? Training session aren't the easiest to shoot, as you are restricted to what action you can shoot and so forth. But - it's a challenge and gives something for me to work on and trying to improve.
At the end of the session it was time to grab interviews with coach Jukka Toijala (who scouted the Swiss team) - and players Mikko Koivisto and Sasu Salin. The relaxed feeling amongst the players/staff is something else.. while interviewing Toijala the other back room staff come in and shout 'Hello's' to people back home.. while interviewing Koivisto I am joined by Gerald Lee Jr who films the interview with his (or someones) mobile phone.. and while interviewing Salin... well, just have a look at the video, even if you don't speak Finnish.. just see the video from 3 min 05 sec to 3 min 38 sec - I am not saying much more over here.. so as not to ruin the surprise.... good laughs all around!!
And it proves what a small community the basketball one is - at the back corridor I am met by a Swiss person who shakes my hand and says that we've met before.. I am like ???. He tells me that he was in Luxembourg few months back with Steve Ellis (British referee), while I had driven there from UK for a Women's EuroBasket qualifying game. Also it was good to meet him as I got my accreditation and photo vest (which seems small for a big guy like me) for tomorrows game.. so I am all set for the match!
Now - bit of camera talk for photographer friend of mine! The Canon 1DX... today was the first time I tried really high ISO on it.. well, I can go higher but I shot at ISO5000 inside the gym today and I am BLOWN away with the results. They way outmatch anything the 1DMKIV was able to produce, even at such high ISO the images look nice and clean. Looks like Canon got this one right BIG TIME. I've included couple of 100% crops of images for you to have a look at - both were shots as far as I remember with ISO5000, f2.8 and 1/500 shutter speed. For me this looks very promising ahead of the new BBL season - where I am once again introduced to the dimly light British sports arenas :-)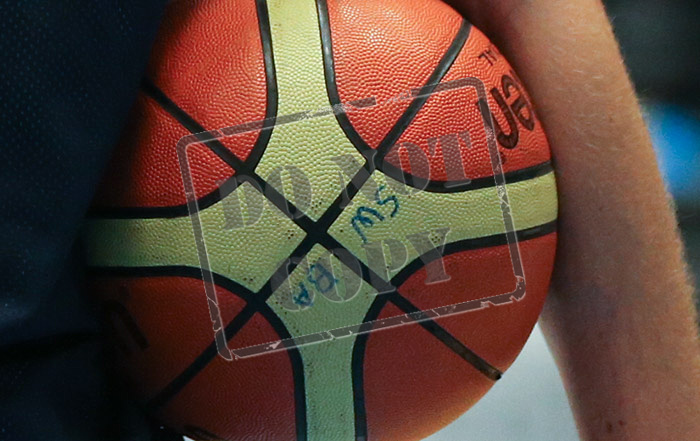 Depending on the lighting at the game tomorrow - I might post a real 'review' of the 1DX low light capabilities.... in any case, there should be some basketball pictures on the Blog tomorrow!