Another day rolled by at the Olympics, with travels outside the Olympic Park for a change
After the late evening and possible late changes to days schedule - here's how it really went. Morning was spent at the Hotels parking lot and garden, first selling off one my my old cameras to a fellow photographer.. and then it was a photo-shoot with a Finnish entrepreneur for the Business pages of Turun Sanomat. So a productive day even before I left the grounds of the hotel.
Then I headed to the MPC at Olympic Park and we had agreed to cover two games of Beach Volleyball from 5pm onwards - but as I am starting to learn, things change on short notice which is one of the reasons that I spend 12 hours a day at the Olympic Park.. JUST IN CASE!! So 12.30 a txt comes through that we start with Volleyball at Earl's Court at 3pm.. so off to the media shuttle bus and to Earl's Court I go. Watched bit of the first game on TV and then shot the Brazil vs Russia game... Few little peculiarities happened at Earl's Court, first of all - as some you might know, I tend to wear a baseball cap all the time and my current one is a Brooklyn Nets basketball cap.. and as I sat there to photograph the game, I was asked to remove it because of sponsorship rules.. I am not quite clear on how having a Brooklyn Nets cap is breaching them - and sort of strange that this happens 11 days into the Olympics for the FIRST time. But it made me smile.. as it did for the photo assistant who asked me to do so.
Removing the cap seemed to make me into a 'ball magnet' - I lost count how many times I passed the ball back to the court/players.. and one of the Brazilians must have seen a certain music video that - for example - the Finnish Women's basketball team has copied recently.. But it made me smile for a while.. so thanks for that :-)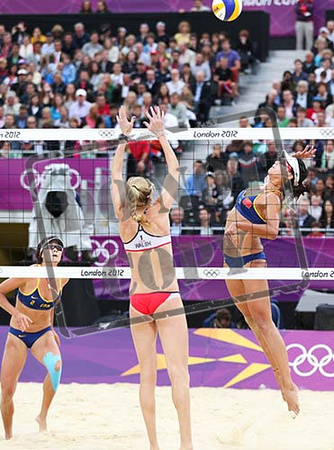 Then we rushed off to Beach Volleyball, with the rain clouds looming dark on the sky - it looked very much like instead of Beach Volleyball, it could turn out into Mud Wrestling. But thankfully the rains stayed away and I covered half of the men's first semi and the China vs USA Women's game. How the heck was half of the tickets sold to Americans.. I have no idea.. but the stands were full of American flags.. apart from the one stand where 90% of the spectators wore SUITS!! Now, I am no expert in the crowds at Beach Volleyball, but I somehow doubt that suit and tie is the normal attire at these events. Biggest jeers were directed towards these people as they refused to join in on the Mexican Wave-marathon...
But nice pictures of the arena from the top of the stands - which really made my day at the end, the game itself.. not really my cup of tea, and I actually prefer Volleyball to the this.
With both myself and the reporter having stomachs that were disagreeing with something we had eaten, it was time to pack it in at 7pm and start the journey back to the hotel. Now - how the TFL website claims that the journey takes 58 minutes, I have no idea. To travel from central London to Epping took me 2hours and 15 minutes... and there weren't really any noticeable delays. One might as well live in Birmingham.. takes less time to travel from London to Birmingham by train :-) Probably Londoners think that this is just a normal travel on a weekday evening.. but to us Country Bumpkins this is just .. well, strange to say the least :-)
Bit of something to eat in the evening.. read for a while and it's LIGHTS OUT!
All Images © Ville Vuorinen