Friday - another day sorted at the Olympics in London 2012.
Once again (seems to have become a habit) the program for the day was not clear in the morning, so I headed out of my Epping-base to Stratford on the early morning commuter traffic. And having now traveled two weeks on the Tube - the Londoners who commute to work are a grey and grumpy bunch of people :-) Everyone keeps on starting at their iThings or papers.. making eye contact is strictly forbidden and anyone who talks to a friend or on the phone gets angry looks.. 'How dare you disturb my journey with your jappering...'
Back to the MPC edit pictures, clean up this and that.. and try to figure out if anything is going to happen today? Finally get a phone call around mid-day and the decision has been made that we'll cover Sweden vs Hungary in Men's Handball.. starting at 5pm. Now, had I known this earlier - I could have had a nice and relaxing lay-in and stuff. But - the way I look at it that I should be ready at the Olympic Park early in the morning, no matter what.
There was surprisingly little action at the Olympic Park in the early hours, only some Hockey and at 3pm BMX riding - not bothering (and being too busy) with the hockey, I ventured out to the BMX track around 2pm to soak up some sun. And naturally finding most of the spectators looking for shady bits to sit and cool down - as the sun naturally was WAY too warm for the mild British summer weather :-)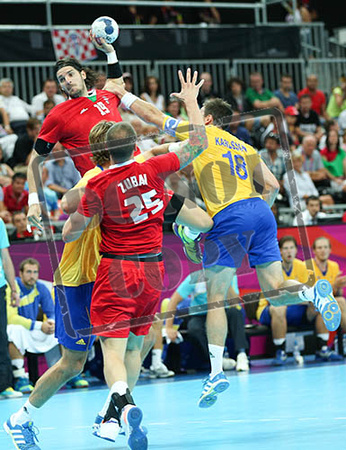 Few wide angle 'air' shots of the BMX for archives - and then heading to the handball arena for the semi-final. Eating my Cheese Pretzel was going well until.. CRUNCH!.. did I bite something hard? And I did get a what I thought to be a piece of stone/glass out of my mouth.. only to feel my teeth few seconds later.. and noticing that I HAD HALD A TOOTH MISSING!! So eating a soft pretzel somehow made me lose half a tooth... now one has to think fast.. three days to go at the Olympics and an injury that has potential to be rather painful. Quickly out of the arena, give a call to ever helpful wife of mine and ask her to give a call to our dentist. Few minutes later had an appointment for Monday morning at 8.40am. Who says you need to wait for a dentist for 6 months.. now just hoping that the tooth behaves for the next 60 hours or so, at least with the help of strong painkillers!
Also a good thing was that this did NOT happen four weeks ago when I was in the first days of my long travels. Also a good thing to be living in the UK as fellow journalist told me that Finnish reporter had her tooth chipped two weeks ago, and was quoted a price of £5000 to get it fixed at a private clinic... that's what I paid for a new camera :-)
Handball was quite entertaining, with the lucky Swedes getting through to the Final - if you get a chance to watch somewhere online a repeat of the Swedes 19th goal... well, just have a look at it, and in a game with a winning margin of one goal.
Although Hungary were unlucky to lose their leading goal scorer half-way through the second half, which made it even more impressive that they hung on until the end. Good 'air' photos and many nice saves as the goalies played a big part in the game. Also - really loving the new Canon 1DX - the AF system on that, as well as low-light capabilities. I can honestly say that it is the best camera I've ever had the pleasure of using and has delivered some great images from London 2012 for me!
Time to head to the Hotel afterwards, had something soft to eat and the tooth felt OK while eating - just hang in there for couple of days and get it sorted after that. It might end up being two rather painful days if things go wrong. Tomorrow - I'll be watching walking...