One my recent sets of images received more comments than I am used to getting..
So this post is bit of technique, photography and basketball chatter - I know, weird mix but I hope you can live with it.,
When you take images of anything for a long time, your images can start to all look the 'same'. So different angles and compositions are something that you start to look for. You search the internet for images of your chosen sport and see what others do - and take inspiration from those. First by trying to imitate what they do, and then once you get more confident - possibly adding your own twist so that your images stand out.
Personally I have been photographing basketball since the first days I started to photograph sports, luckily for me the various leagues I photograph all have their own characteristics so the end results are slightly different from one game to the next. In some leagues the game doesn't 'move' as much, so you do not get the running through the channels, other teams shoot more from the long range, women's game is different to men's.. and so and so on.
Every now and then I get the chance to experiment with remote cameras behind the backboards, to get a view from above the rim as the players are rising towards the rim. Often fans and other photographers ask how I do this and what equipment I use. So this season I am going 'above the rim' more often than usual - and try to document the techniques and results (and hopefully improvements) I get during the following eight months or so.
As this is the first post, we better start with the equipment I use :
Camera : Canon 1DX - personally I prefer to shoot with a full frame camera behind the backboard, as I want to capture a wide enough field of view from rather close-up. The high fps (frames per second) rate also means I have better chance to capture JUST the right moment when the player is rising or touching the rim.
Lens : Canon 16-35mm f2.8 II - this for me gives a nice field of view, I often end up going to the wider end of the range. A lot depends on where I place my camera behind the board. In many games my camera is the only one up there, but in bigger tournaments the 'best' places go for the 'big fish' and I get to use a different point of view.
Attaching the camera : Manfrotto Magic Arm 244RC with SuperClamps - this is the version with the Friction Arm, instead of the lever one. The reason I use this is that the lever version can be more easily knocked and loosened by a stray ball. Where as the friction arms tightening wheel will not more. Depending on the event, I use either two or three of these to secure the camera up behind the board - camera on one and then one or two arms securing the camera arm.
Triggers : PocketWizard Plus II - these are perfect for your normal events. For bigger tournaments I like to have PocketWizard MultiMax, just so I can set the 'channels' to be different from all the other photographers, and preventing my camera being triggered by someone else's PW.
Other equipment : Black gaffer tape (preferably black on both sides), insulation tape, black non-reflective cardboard, swiss army knife/scissors, window cleaner, paper towels.
To end the first entry - here is an image of my set-up attached to the frame in a recent game at Leicester Riders game.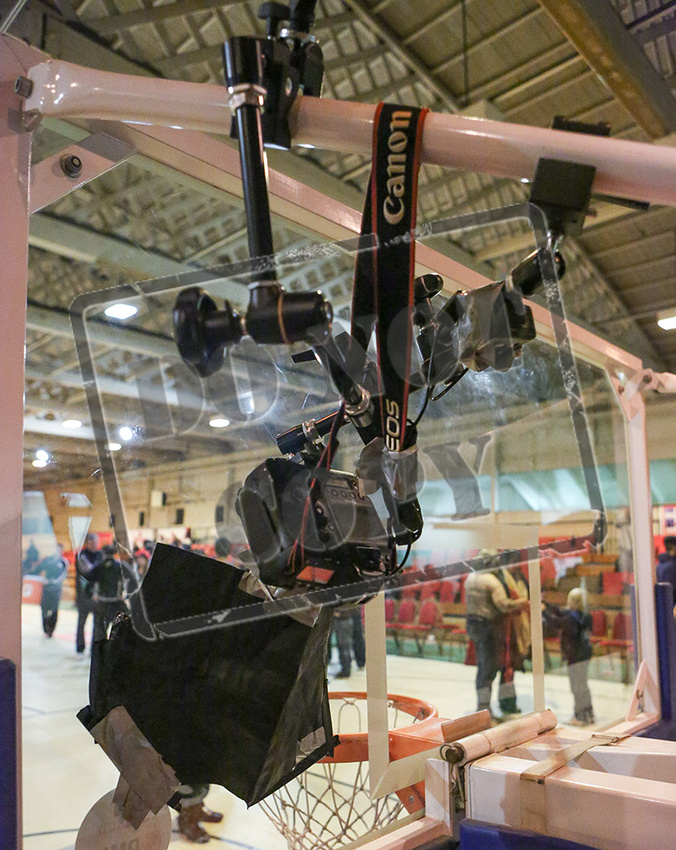 As always, these are just the way I personally have found things to work the best - and in no way meant to be the ONLY way that this can be done. And who knows, maybe in the coming months you will see me totally changing my opinions and views - and totally disregard anything that I might have mentioned in this post. That's why I love photography, you constantly learn from your own mistakes and advice received from others...
Until next time - hope you enjoyed a little of what I've written here :-)