England and Finland looking forward to opening games in Cyprus Cup 2014 !
My third Cyprus Cup started on Tuesday with a visit to the training sessions of Finland and England. Both teams are naturally preparing for their qualifying campaigns for the FIFA World Cup in Canada and this is their last chance to fine-tune things.
During the 120 minutes of training, I swapped between Finland and England training - while also checking out Canada training on the next pitch. Both England and Finland are familiar teams to me, as I've covered many of their games and see many England players during the WSL season. And despite players moving away from BCLFC, it was nice to get warm greetings from Laura Bassett as England arrived to the training centre.
Finnish coach Andree Jeglertz said that there is a positive feeling in the camp after their win against Scotland in a friendly that was played back in Finland few weeks ago - but added that there were still things the team wanted to improve upon as they head to their opening World Cup qualifier vs Hungary in the beginning of April.
He also added that the Finns had changed their formation/system and Cyprus Cup gives him and the team a good chance to get things working smoothly, also the addition of few new faces to the team is something the Finns will look to integrate.
The Finns first opponents are Canada, the two teams met last year in an entertaining game in Cyprus Cup, which Canada won, so what sort of opponent is Canada? Coach Jeglertz compared their playing style to that of U.S.A, a physical, aggressive and skilled team.
Annikka Kukkonen of Finland also rates Canadian team "They are in the Top 10 in the world, so they will definitely be a tough opponent. But at the same time their style of playing suits us, and we've usually played quite well against them,"
I asked her what she thinks of playing in an International tournament just before the domestic season "I guess few players might have the pre-season in their legs still, and that might show on the pitch. But it is always great to get to play these (International) matches, so I always enjoy coming here to play".
Swapping camp to the England training pitch, where I asked Jade Moore about the timing of the tournament.
"I think it is good to have a friendly tournament before the WSL season starts, hopefully this will give all the girls the chance to get to full match fitness and get good minutes in the competitive matches."
England are the reigning champions in Cyprus Cup, so are England planning to take the trophy back to England again?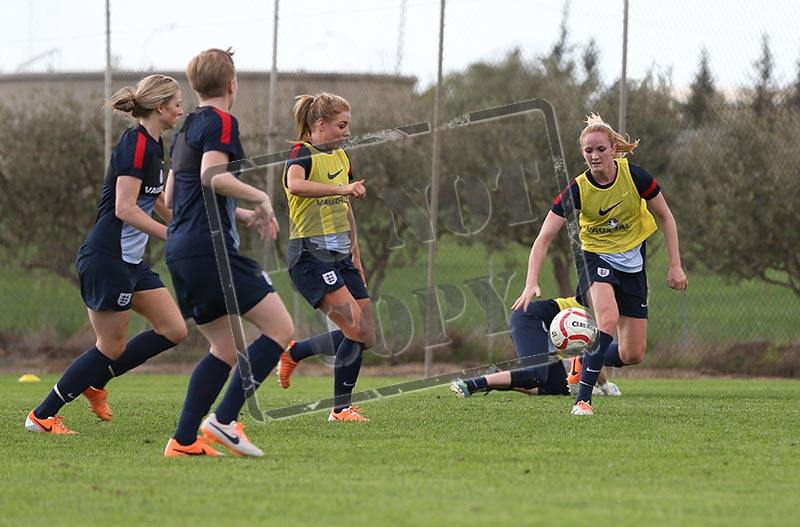 "Of course that would be nice if we get to the Final to regain the Trophy and take it back home, but this tournament is also about learning new things and getting to know all the players and staff"
So, tomorrow the games start and teams get their first taste of action, Finland take on Canada in the opening game in Nicosia - this one followed by England vs Italy under the floodlights in Larnaca. These games in my schedule, the other two groups of course kick-off tomorrow.
All Images © Ville Vuorinen / GooGaBu Nordic Creations Ltd - No use of images allowed without written permission, normal payment rates apply