Another trip to EuroCup game is coming to an end !!
Trip to Ploiesti was to cover Finnish players Petteri Koponen (Khimki) and Gerald Lee Jr (Ploiesti) - and it was also going to be a game to try the behind the board remote camera. All was agreed with the club and I came early to the venue to set things up, but there are two (well two main) kinds of baskets and this one was with the more loose struts at the back - and when you attach the camera-rig there, there is quite a bit of movement sideways. And I have never used a remote in this type of basket before, so I wasn't quite comfortable doing it here for the first time... so a slight set back as I could not do this.
In the game it was mostly the aim to capture the two Finns, preferably in the same frame - and with these players playing very different places, they weren't always co-operating and being close to each other. Still - whether by luck or skill, I did get few shots of them together in the game and of course the 'pose' before the game.
Post game - quick interviews with both players (video embedded here in Finnish!!) - then off to have dinner with the players. Reason I could never be a good reporter, my relationship with the players is too friendly.. I couldn't be critical enough when needed ;-) But - a nice last evening in Romania with a good dinner and great company, even if the food did take hours to get to the table. And me being an ex-Chef, I would have been getting a mighty telling off from the boss is I ever had taken this long to serve food to the customers.
Tomorrow - or actually today, heading back home for few hours before the next trip abroad! And by the way, UK based clients... I am more than happy to work for you as well, but you know it won't be for free.. so please feel free to get in touch :-)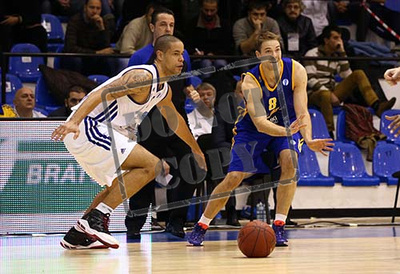 It's been a great trip, from last nights 'Romanian evening' dinner with some of the staff from Asesoft Ploiesti, while watching Romania-Greece on the TV and eating my 'Which came first, the Egg or the Chicken" dinner. To tonights game and dinner afterwards... met some great new people on this trip and some old friends were met again, and unfortunately some that I had hoped to meet.. we could arrange the time. Still leaves something for the next trip I make here.
Now - Good Night from Ploiesti!
By the way : All Images © Ville Vuorinen / No unauthorised use allowed !!