Each court, basket and game is different !
Second part of the 'Remote camera in basketball' is about the challenges and unexpected issues that can come around when going to a new venue for the first time. You can't know what the lighting is like, although with today's cameras we can deal with most situations/lighting conditions, you don't know if the basket is suitable for attaching you camera, you can be thrown back with the shatter-proof backboard..
Naturally some of these issues can be researched by looking at pictures from the games that have been played in this venue, quick Google Search or visit to the clubs website is often all you need. After a while you start to know the various types of baskets, and how you can attach your camera to this particular set-up. But what you might not be able to see if the condition of the backboard and all the scratches/reflections on it - unless you are lucky enough that the local photographers also use remote cameras, in which case you can look at their images :-)
For me, the last two weeks offered two chances to use remotes in European club competitions (EuroChallenge and EuroCup) - and both times I was really looking forward to getting some good pictures. Also, both times I was faced with different challenges - so instead of posting you some good samples of images, this post is about the unexpected things that can happen when attempting to install a remote and photograph a game
First example is from my game in Denmark, all set up for installing the camera behind the backboard, I arrive to the venue at 2.30pm (game starts at 7.30pm) and I have my window cleaning stuff with me. The baskets in this venue are ones that get lowered from the ceiling, so the attaching method was a new one to me. Limited options to attach the arms to and with TV microphones, also limited angle to set it up.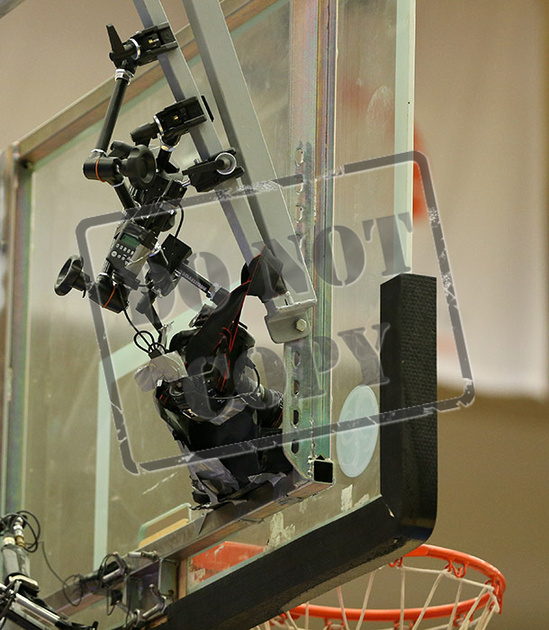 It takes me a little longer than usual to get everything set-up, and I use three MagicArms as I want to be very safe in the knowledge that my rig will stay up there. The Danish team has a 'beast of a man' who enjoys some hard slam dunks.. so to make sure his hanging from the basket doesn't detach my camera, etc.
After setting the camera and cleaning the boards - I take few test shots with myself on the other side of the glass, slightly hazy but it looks good enough so that I should be able to get few nice shots as long as the players perform. One more check and tightening of the MagicArms to make sure all is good. While up doing the final checks, behind the basket the Match Day crew are testing their smoke machine - and as the smoke rises up, I get covered in the haze. I laugh this off, not thinking about it too much (MISTAKE!!).
I cover the game and know that there were few plays that should give brilliant shots, so eagerly I climb up after the game and retrieve my camera. Ingest the images from the card and start browsing in PhotoMechanic.. and all the images are hazy or with greys blur. I scroll the image back to the 'test shot' of myself before the game. hazy, but OK. But all images from the game are totally un-usable, apart from maybe few that are OK for some background images for posters i make. I check the camera, it was on MF, and all was left on M, WB was set.. then I look at the lens. It has a coating of something greyish on it, I then get back to the backboard and climb up - and the backboard also has a very thin greys layer. The smoke machine had been tested so many times before the game that a small film of the 'smoke' had clung to the lens/board. Thus making my images look greyish/blurred.
What I learned from this, if a smoke machine is used behind the basket - either make sure you go up there AFTER they have done their multiple testing, or at least go and wipe your lens and the board again after this!!
You live and you learn from each job you do - and this is one of the reasons why I don't like to promise images from remote cameras if I do not know the venue/basket/attachments/board. Hopefully this coming weekend will see couple a bit more successful events covered with remotes.